About Us
Southland Announces New Location in Cleveland

Southland Now Open in Cleveland
January 27, 2016
(Pictured: Dusty Whitener, branch manager, with Lacey Hennessee, customer service representative)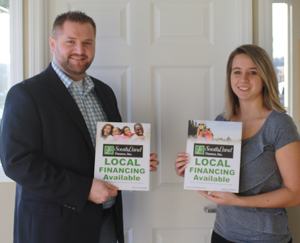 Southland Finance recently expanded into the Bradley County market with the addition of a new branch at 3850 Keith Street in Cleveland. The company introduced Dusty Whitener as Cleveland Branch Manager, responsible for managing the expansion, development strategy, lending services and day-to-day operations of the new office.
Established in Athens in 1996, Southland Finance is locally owned and operated, and provides a variety of loan options, including personal loans for expenses like vacation, weddings, auto repairs, furniture and other spending necessities; installment loans that offer a fixed rate with monthly payment plan; and consolidation loans designed to combine several high interest loans into a more convenient single payment. The customer-centric mission of Southland supports the financial circumstances of all members of the communities they serve and often considers less than perfect credit.
As manager and loan officer of the Cleveland branch, Whitener and his team will offer a comprehensive array of lending services, including secured and unsecured loans up to $10,000. "Southland has a simple philosophy - to offer relevant financial solutions for our neighbors and do the right thing by our clients, each and every day," said Ross Millsaps, President of Southland Finance. "Dusty will certainly receive the tools and support he needs to build a successful business and meet the ever-changing needs of his customers in Cleveland and Bradley County."
Whitener has an extensive financial services background, including eight years of field experience in the management sector of a local consumer finance company. He has previous experience as a licensed income tax preparer, insurance producer and Motor Club agent. Whitener graduated cum laude with a bachelor's degree in finance and general management from Tennessee Wesleyan College in 2011, where he was a member of the TWC baseball team and delta zeta phi fraternity. He is also a 2006 honors graduate of Meigs County High school.
"Southland has offered lending services to its customers in Athens for almost 20 years, but we look forward to adding an additional presence in the Bradley County market and offering our Cleveland customers the same exceptional level of service and financial options," commented Terry Elliott, VP/Manager, Southland Finance (Athens). "We are pleased to welcome Dusty and we are confident he will be a valuable asset to Southland Finance and our clients."
"My family and I feel truly blessed by this opportunity and I am especially excited to begin this journey by welcoming former customers and building relationships with new clients in the area. Southland has welcomed me with open arms and I could not be more pleased to be part of this growing and dynamic team," commented Whitener.
Native to Meigs County, Whitener has lived in the Cleveland area for eight years. He is a former member of the Meigs County volunteer fire/rescue squad, attends Hickory Valley Christian Church, and is active in the community. He has participated in street adoption programs for road beautification, organized local benefits for disadvantaged members of the community, and contributed to local adoption programs for less fortunate families during the holiday season. An avid Tennessee Volunteers fan, Whitener currently lives in Cleveland with his wife, Sara, their daughter, Harper and yellow Labrador, Ally.
Visit Dusty at 3850 Keith Street in Cleveland (near Chick-fil-A), Monday-Friday from 9 a.m.-5 p.m. or after hours by appointment. He may be contacted at 423-458-3007 or [email protected]. You may also submit a loan inquiry online anytime at www.southlandfinance.net.